CBOT

CBOT, the smartest solution to pay Copies/Prints/Scans
The cBot is an autonomous kiosk solution to pay in self-service print, copy, and scan. It is simple to use and compatible with almost all Multi-Function Printers !

Pay per use : Guests don't need to create an account, to use copy, print USB and scan services.

Provide change :Give users change from a self recharge coin module. Overflow coins drop to a secure lock box.

Accept bank cards : cBot works with Nayax, bank card terminal. An easy solution to set up and manage your account.

Create an account and add credit : cBot can create a user account and add credit. It works with Gespage.

Mobile printing : With user account, the users can print directly from their own mobile, tablet or PC through an application or web interface.

Small and easy to install : Thanks to its small size, (H : 910mm W: 325mm) cBot is easy to install and to use.
The cBot allows you to pay anonymously by cash or credit card, but at any time you can create and reload yourself your account from the kiosk.
On sites equiped with more than one Multi-Fonction Printer (MFP), it is not mandatory to have one cBot for each copier.
You can see on the diagram below, in the center, the Gespage server to manage globally the solution to pay Copy / Print / Scan. On top, there are 2 cBot (one to pay by Bank card and one by Cash) each one connected to a MFP. On bottom, 2 other MFP are only connected to the Gespage server.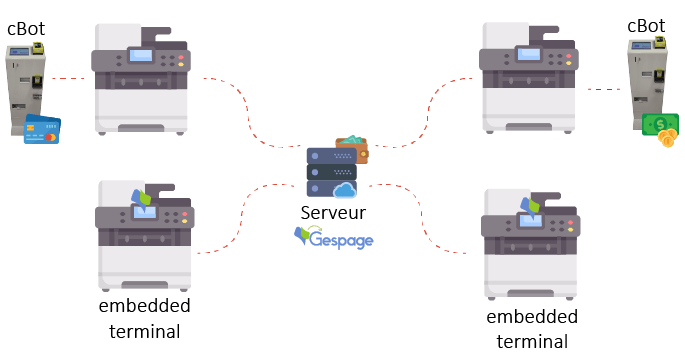 In that case, Guests or none frequent users will be able to use the 2 MFP connected to the 2 cBot. For the payment by bank card, they will present their card to give them first a credit predefined (as for petrol pump). When they have finish their job, after pressing the stop button, they will be informed about the exact amount taken on their account.
For the payment by cash, they will put coins or notes in the machine to get a credit. When they have finish their job, they will receive change.
All the other more frequent users can use all the MFP by using the credit on their accounts. On the MFP connected to cBot, they will use the touch screen of the cBOT on the other the touch screen of the MFP. They will reload their account by Cash or by Credit card from a cBOT.
For more details, watch our demo video !